WOA Universal launched the new Wolfoo Book Series to help children practice EQ and IQ
On May 28, Woa Universal, in collaboration with 1980 Books, launched two book series, Wolfoo Ehon, and Wolfoo Discover. Continuing the educational values of the Wolfoo animated series, the books also aim to provide practical lessons for children.
A helpful parenting sharing session
The book launch event was held with the participation of:
Mrs. Tran Thuy Linh - Deputy Director of the Institute for Applied Education Research and Development (IARED), international Montessori expert, and co-founder of the American Montessori School preschool system.

Mrs. Huong Do - Author of the famous book "Raising Children is not a Battle"

Ms. Quynh Huong - Representative of the Wolfoo Ehon and Wolfoo Discover book series author.

Mrs. Lai Thi Mai - Director of Woa Universal.
This event not only helps parents better understand the educational values ​​that Wolfoo is aiming for, but also a sharing session for parents to identify and offer solutions to the problem of controlling their children's emotions.
What makes the Wolfoo Educational Book Series special?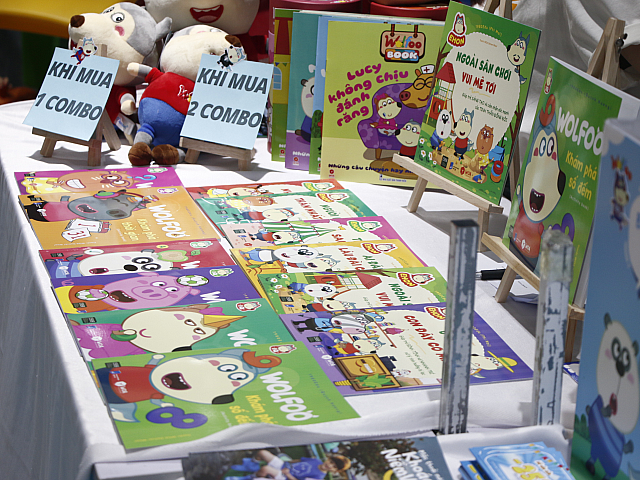 Wolfoo Ehon focuses on developing emotional intelligence (EQ) through a collection of stories relatable to the life of Wolfoo and his friends. It presents specific situations to guide children's attitudes and foster positive emotions.
Meanwhile, Wolfoo Discover offers lessons to enhance intellectual capacity (IQ). The book series features innovative designs with stickers and interactive games, which help children cultivate logical thinking and reasoning skills.
With these two carefully invested products, WOA Universal hopes to support parents and accompany them in raising their children.
Where to support the Wolfoo Book Series?
Official WOA System: Woa Store at Vincom Smart City Shopping Mall, Woa Store Fanpage, Woa Store Shopee Mall.

The distribution system of partners: Online and offline stores of 1980 Books, Board Game Viet Nam, Fahasa, and Phuong Nam bookstore chains nationwide.
Furthermore, in the near future, the products will have a more substantial presence on platforms for international markets such as Amazon, Shopify,...